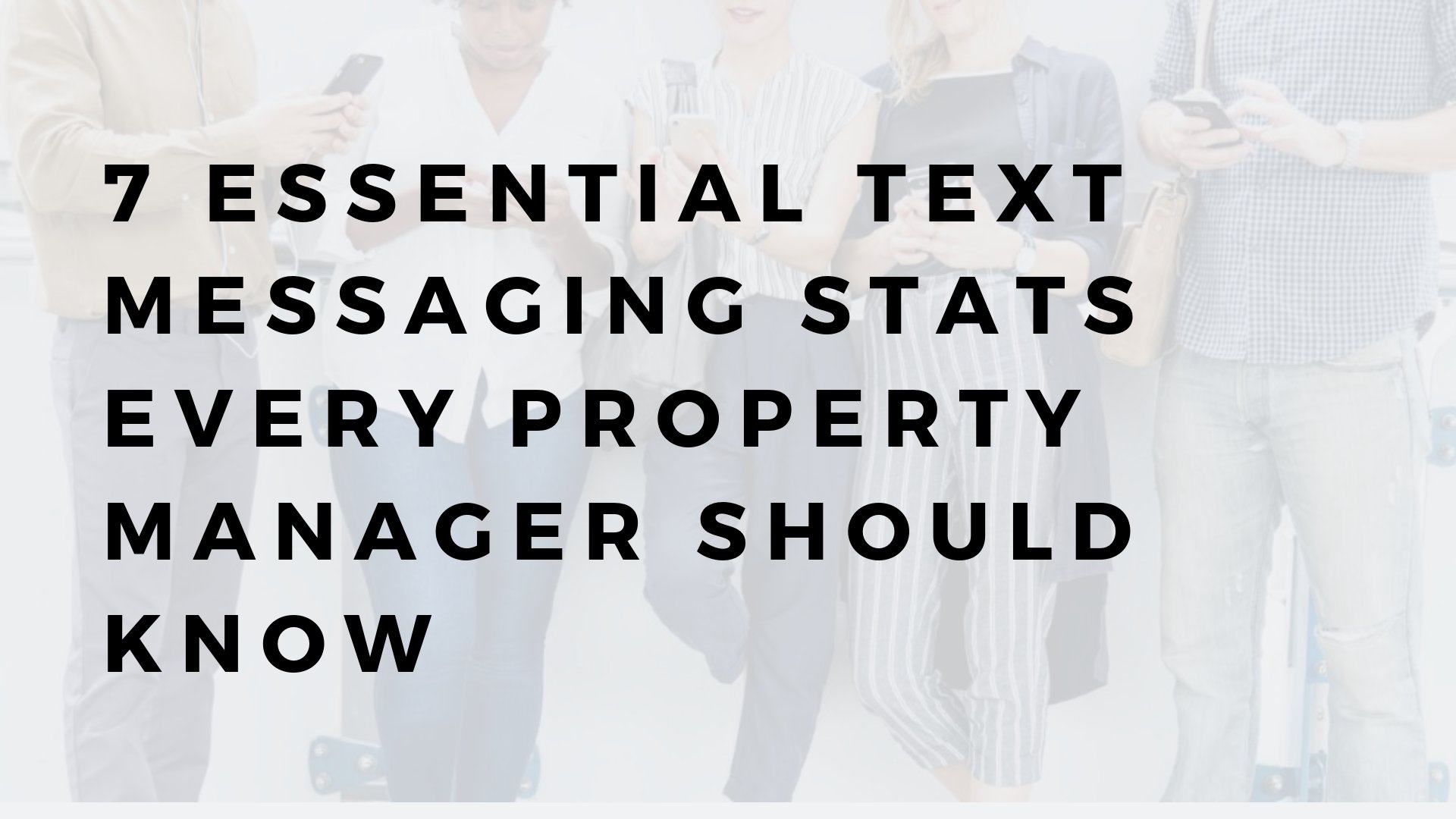 7 Essential Text Messaging Stats Every Property Manager Should Know
SMS marketing is quickly becoming a necessary part of business for every vertical - including property management. In recent years, text messaging has proven itself to be a superior communication platform. Texting has become the preferred method of communication between friends and colleagues because it's quick, easy and multi-functional. Because of this, property managers are finding creative ways to use this technology as a reliable resident communications tool - it's the ideal way to let residents know that there's work being done in their community, that the water is going to be out for a few hours, or even letting them know about emergency scenarios if necessary.
If you haven't yet, you should be looking into ways to utilize a text strategy within your resident communities. In today's world, few approaches compare. Check out the seven mind-blowing statistics surrounding text messaging, and consider the many ways an intuitive text message platform can help strengthen your community:
95 to 98% of texts are read immediately:

These texts are read within one minute of receipt, influencing the recipient (resident) almost immediately. This makes text messaging one of the fastest and most convertible forms of communication available. (Source: MobileMarketing.com)

The average response time for a text message is just 90 seconds:

Compare that to the average response time for an email, which is 90 minutes (Source: CTIA.org)

86% of consumers send and receive texts every week:

Today's modern consumers are mobile-centric, so it isn't a surprise how often they communicate with businesses and one another using text messaging. More important, it is quickly becoming the preferred method of communication with businesses as well. (Source: eztexting.com)

90% of new customers would rather receive a text message than a phone call:

Not only do potential new residents prefer to receive a text pertaining to their sales interest, 85 percent of them also want to be able to reply using the same channel. (Source: FranchiseHelp)

65% of smartphone owners check their phones within 15 minutes of waking up:

Beyond smartphones being a preferred tool for communication in a resident's lifestyle, it's quickly becoming the first thing to deliver important information, reliably, in their daily schedule. (Source: Smart Insights)

64% of consumers are likely to perceive a company contacting them by text in a positive light:

The more positive the impression of your business, the more likely they'll apply or recommend you to friends and family. (Source: Harris Interactive)

98% of adults aged 18 to 29 in the US own a device capable of receiving a text message:

This statistic shows you not only how widespread adoption of mobile technology is in our society, but proves the simple fact that the audience for property managers truly has access to a text-enabled device. (Source: Pew Research Center)
Interesting, right? It's likely that you already know just how often people are using their mobile devices - but how do you turn those statistics into something actionable? How does a property manager transform a text message into a compelling value-add amenity for a resident—or even for a potential lead?
When it comes to your residents, a two-way texting platform is key for sending and receiving communications. Not only is it extremely important that you're not texting them as a last resort from you personal phone (for obvious reasons), but it also allows you to make sure that they're receiving your messages, especially if they're urgent. Texting opens an entirely new method of communication - but not all texting is created equal. There are a few things that can elevate your resident texting far more than average:
Sending texts to specific groups: Need to send a text to a specific building or group? There will be times where your team needs to contact a specific group of units, and not the entire community. Make sure that you have a quick and easy way to connect with your buildings, floors, or sections - you never know when an issue can pop up that only effects a part of your community!
The ability to schedule text messages: If you're using texting as a way to connect with you residents, then scheduling specific texts is a great tool to have in your arsenal! Scheduling text messages would allow you to send Happy Birthday texts, remind them about events, or even late rent notifications. Scheduling text messages allows you to continue to nurture your relationships with your residents, automatically - it's a huge win for both resident retention and employee productivity!
Texting while away from the office: You never know when issues could pop up - that's the name of the property management game! 11:00 PM on a Friday night floor 3 has a major water leak? It's important you can let the rest of the residents know as soon as possible - and if you're not at your computer, it's not easy to find the contact information for your residents. Make sure that you're using a texting platform that allows you to send and receive text messages from any of your residents contacts at any time - you'll thank yourself later.
Automatic responses for potentials: How are you contacting your leads? Are you sending them move in-specials and open unit details via email? Texting is quick, easy, and more likely to elicit a reply - and therefore a great lead generation and nurturing tool! It feels personal, which is huge when they're likely chatting with multiple properties. Texting with your potentials is a major marketing tool that you could implement in just days!

Texting is the way that communication is moving - and communicating with your residents and prospects is no exception. There are multiple reasons and ways that texting can support your marketing and retention efforts, and if you're currently considering adding texting to your properties amenities, there's no better time than now.