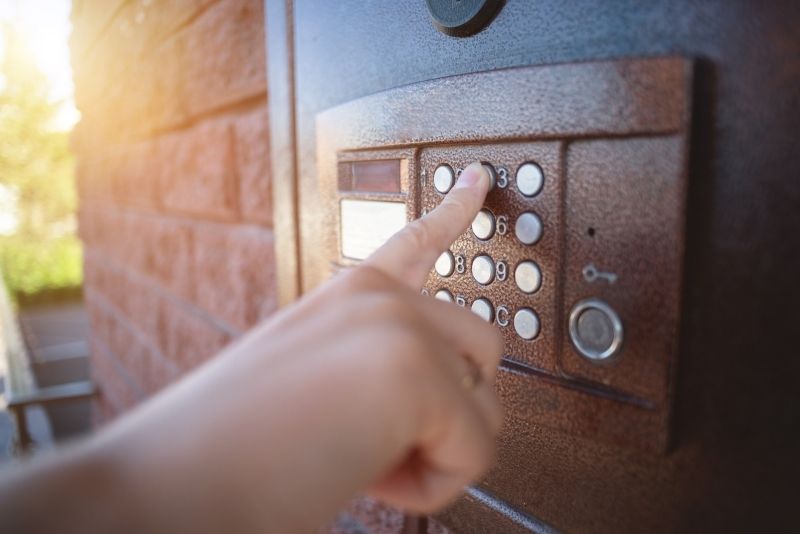 Whether you own or manage an apartment building or you're developing a new building, it's important to remember that every prospective resident's first impression starts at the front door. That's why your entry system is so important. To ensure the best first impression every time, invest in an apartment intercom system.
But with so many options on the market, how do you know which intercom to buy? Read on for a handy guide to choosing the right apartment intercom for your building.
Before you buy an intercom, consider these four important factors:
1. Wired vs. wireless intercoms
Have you noticed the trend in wireless technology? Your headphones are wireless, your phone charger is wireless — your intercom should be wireless, too.
Traditional intercom systems require wiring between the outdoor intercom and the indoor panels in every unit. That's a lot of wiring — which equates to high installation costs (up to 3 times what you paid for the hardware).
These days you don't even need hardware in each apartment unit because 96% of Americans already have a better solution in their pockets: a cellphone. Instead of installing expensive, buzzer-style hardware in every unit, choose a wireless apartment intercom system that residents can operate from their cellphones.
Something to keep in mind: While intercoms without building wiring are the best way to go, intercoms wired directly to the internet are more reliable. Instead of relying on spotty WiFi or an overloaded cellular network, choose an intercom with a direct internet connection. That way, visitors will never be stuck outside waiting for connectivity issues to resolve.
2. Intercoms with a mobile app
We've established the benefits of an intercom that operates from a cellphone, but some modern intercom systems go a step further by offering a mobile app residents can download to their smartphone. This feature adds safety- and convenience-focused benefits.
Intercoms with a mobile app enable residents to:
Grant property access remotely
Quickly change personal settings, notification settings, and PIN codes right on their phone
Let service providers into the building even when they aren't home
View a record of all the calls and messages they have received through the intercom
3. Video intercoms
When choosing an apartment intercom system, you'll have to decide whether just audio will suffice or if video is necessary.
The benefits of a video intercom include:
Improved security: Video intercoms let residents and building staff see exactly who is at the front door before granting property access
Reduced risk of vandalism: Since video intercom systems display a live video feed, anyone approaching the building will see themselves on the screen. The perception that they are being watched or recorded helps deter them from vandalizing the intercom or the building.
An audit trail: Since they have a camera, video intercoms may provide a visual audit trail of everyone who uses the intercom system by taking time- and date-stamped photos or video footage of all users.
4. Cloud-based intercom systems
A cloud-based intercom enables residents and building staff to grant property access and manage the system remotely. What's more, you won't need to purchase additional hardware or continuously download new software to update the system and manage access permissions — instead, you can do it all from a web-based dashboard on a smartphone or computer.
Cloud-based intercom systems let property managers:
Update the intercom directory remotely
Grant temporary access for maintenance professionals
Remotely grant property access to service providers, delivery people, and prospective residents for self-guided tours
Manage access permissions
These are just a few tips for selecting the right apartment intercom system for your buildings. Ultimately, it will come down to your particular needs, budget, and goals. Like most other decisions, do your research to find a reputable company that can deliver a product and service that is right for your building.