There's often a lot of focus about the luxury segment of the student housing market, which can sometimes overshadow other parts, such as sustainable student housing. While sustainable student housing doesn't share the same popularity as amenity-laden luxury student housing, there have been some very fascinating green-friendly projects popping up.
Here's a look at some of the most creative and sustainable student housing projects around the world:


1. Mill Junction Student Housing by Citiq, Johannesburg

We've never seen anything like this before. The Mill Junction is one of a kind - a series of stacked colorful shipping containers have been neatly propped up on old silos. Citiq put these old unused grain silos to good use, without having to demolish them and rebuild.

2. Crou Student Housing by Olgga, Le Havre, France

The repurposing of shipping containers seems to be a trend that's catching on for green-friendly student housing. Crou student housing used 100 shipping containers, stacked in a pyramid-like fashion, with each container being a separate unit.

3. Grünerløkka Studenthus by HRTB Arkiteker, Oslo, Norway

While the Mill Junction decided to build on top of old silos, the Grünerløkka Studenthus was built directly into old unused grain silos. This 19-story student housing complex is a rather unique design with most of the apartments being round.
4. Charles David Keeling Apartments by Kieran Timberlake, University of California, San Diego

Many of the leading green-friendly student accommodations are located in Europe, but the Charles David Keeling Apartments are by far the front-runner for the green student housing movement in America. These state of the art facilities have some unique green features like on-site wastewater recycling, on-site renewable energy, a backwards constructed rain screen and air-barrier exterior to reduce heat loss.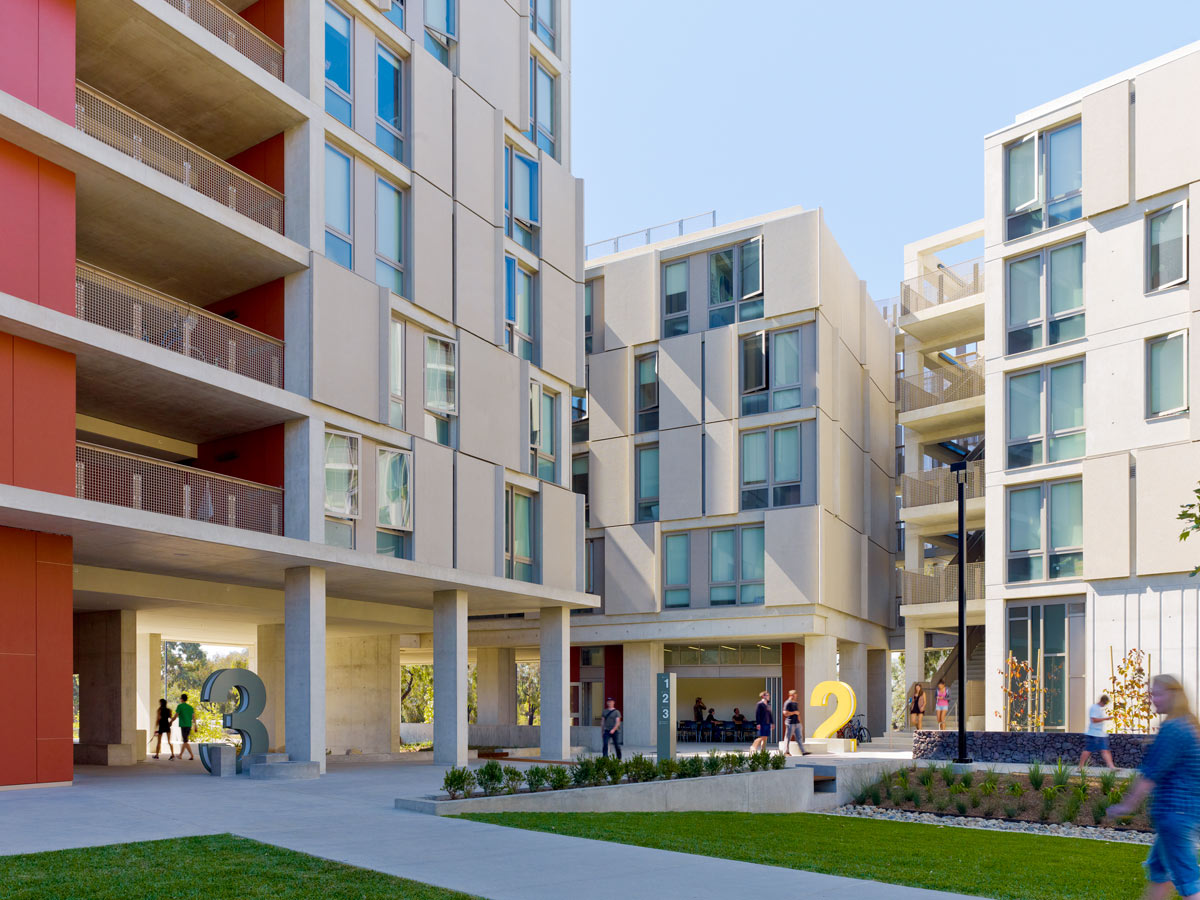 5.Micro Student Home by AF Bostader, Lund, Sweden

AF Bostader crafted a beautiful, affordable and autonomous micro student home totaling only 12 square meters in size! The goal of this project was to develop micro-homes which could help combat the shortage of student housing in Sweden, while offering affordable rents.

6. Basket Apartments by OFIS, Paris, France

Talk about a creative exterior design. The Basket Apartments are home to 192 studios in which the apartment designs maximize the use of natural light and heating to minimize energy costs. The building has several green-initiatives in place, including photovoltaic roof panels to generate electricity, a basin to harvest rainwater on site, double flow mechanical ventilation and more.





7. The Smart Unit By Tengbom, Sweden

Tenbom, in collaboration with Martinsons and real estate company AF Bostäder, sought to also address the student housing shortage in Sweden with a unit totaling a mere 10 square meters. This architectural masterpiece puts every inch of space to good use and still manages to give a sense of coziness. The unit dramatically minimizes carbon emission and ecological impact by carefully selecting building materials and reducing construction time.